Looking to relocate to a peaceful, scenic area away from city living?
If this sounds appealing, consider Tiny Township as your new location.
Tiny Township is located on the peninsula that separates Severn Sound and Nottawasaga Bay at the south end of Georgian Bay. It extends southward into the Wye River watershed.
The township is home to Awenda Provincial Park on Georgian Bay at the north end, and the Tiny Marsh Provincial Wildlife Area, the source of the Wye River, in the south.
With over 70 kilometres of stunning coastline, Tiny Township provides residents with beautiful views and a multitude of activities to enjoy. 
Consider these eleven reasons if you are thinking about relocating to Tiny Township.
1. Tiny Township real estate is affordable to buy
Affordable lots give home buyers an excellent reason to consider building a new home and moving to Tiny Township. Starting around $35,000, prime lots are more reasonably priced than anywhere else along the shores of Georgian Bay. Average lots are relatively large: 100″ x 160″ and covered with mature pines, maples and oaks. You are never more than 5 minutes drive from one of the beautiful beaches.
2. Crime Rate in Tiny Township is next to nothing
It offers excellent security. Neighbours watch out for each other. The community feel of country living goes beyond saying. It is secured and provides a wonderful way to take care of one another while still maintaining that sense of privacy that everyone wants.
The cost of policing is only $125.00 per household per year. This is one of the lowest rates in Ontario.  
A community surrounds your family, so you know that they will be safe when they are outside playing. Everyone watches out for one another and make the whole neighbourhood safe. The only difference is that everyone has their home and the sense of privacy that they desire.
3. Water sports make summer all the more exciting
It is no surprise that Tiny Township residents spend their summers enjoying the vast variety of water sports. At Balm Beach wake-boarding, water-skiing, tubing, kayaking, and boating are just a few of the activities popular with locals and tourists alike. Nearby shops provide rentals for visitors or residents that do not own water equipment, such as boats and jet skis.
Even residents with less active lifestyles enjoy sunbathing on the shore or a quick dip in the water. Activities on the lake infuse endless enjoyment into residential life during the long summer months.
4. Your backyard is a sanctuary for abundant wildlife
The wetlands of Tiny Marsh are home to dozens of bird species. A glance along the coast might yield a sighting of a majestic Great Blue Heron.
Around 250 species of birds have been observed in the marsh, including the provincially threatened Least Bitterns and Black Terns. Ospreys nest at the marsh, as well as 11 species of duck. The shallow waters attract other waterfowl during most of the year.
Foxes, deer, racoons, squirrels, chipmunks and porcupines are almost a daily occurrence.
Occasionally, hawks make their home in the nearby woods along the farmer's fields. Even nature enthusiasts that know little about the sport of bird watching will enjoy spotting these majestic animals in their natural habitat.
5. Your home becomes the place where everyone wants to gather
With beautiful landscapes and quiet living, Tiny Township makes the perfect location for family events. Visits from family and friends become much more frequent when you have a home in a prime location near the lake.
When holidays like Easter and Thanksgiving roll around, don't be surprised when friends and relatives beg you to host.
6. Delicious local dining options abound
Whether a casual night out or a big date night is on the horizon, nearby towns of Midland and Penetanguishene have restaurants of every caliber within a short drive. A favorite spot for locals, The Piccolo restaurant, offers casual dining during the day and formal dinners in the evening.
7. The Bay is an excellent fishing hole
Georgian Bay fishing consists of cold water species such as the rainbow trout, chinook, and coho salmon, as well as cool water species like yellow perch, smallmouth bass, and walleye.
These cold water species are found approximately six to ten miles offshore during the summer months. Yellow perch, smallmouth bass, and sunfish are taken from late spring to early fall along the entire bay shoreline.
Avid anglers flock to the waters edge year-round. Some of the best ice fishing is in the whole of Georgian Bay area is off the shores of the beaches of Tiny Township.
If you take a more relaxed approach to your fishing expeditions, you'll discover open and calm waters with plenty of room for casting and reeling.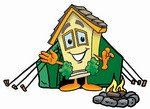 8. Your porch overlooks a stunning lake view
Worn out after so many activities? Kick back and end the days enjoying perfect sunsets that can only be found in charming places like Tiny Township. The serene waters provide a calm backdrop for residents, making it an ideal location for homebuilders looking for a laidback lifestyle.
The beautiful landscape and clean, fresh water of Georgian Bay give new residents the benefits of lakefront view without crowded shores and overpriced real estate. Whether you are drawn to water sports, weekend camping trips or just desire a slower pace for your life, relocating to Tiny guarantees the luxury lifestyle that will fit your needs.
9. It is an excellent place to raise the family.
A community surrounds your family, so you know that they will be safe when they are outside playing. Everyone can watch out for one another and make the whole environment like extended roommates.
You have everything that you want, without any of the things that you don't. Someone is always there for you if you need it, but stays to away when you don't.
10. Low taxes
Construction and other costs for a new home are about the same everywhere in Simcoe County. But Midland charges $2,983 in tax just for local services on a $300,000 home while Tiny charges $825 and Wasaga Beach charges $1,446. This is clearly why new home builders and buyers choose places like Tiny instead of other places.
That all brakes down to approximately $2,500.00 a year in taxes for an average new house.
11. Clean Air
Families that live in the country have the benefit overcrowded cities and industrial areas of having fresh air. Sitting outside at night and being able to view the stars and moon in all their glory is clear evidence of the air quality in the country.
Smog and air pollution are far and few between in the country. Bright blue clouds and sun can be seen clearly, and pollutants from crowded highways, exhaust fumes and manufacturing companies are nowhere in sight. For most rural families, the worst air they might encounter is a trip back into the pig pen or chicken coop.
Certainly there are other benefits to living a rural life such as taking the view of the sun on fire as it sets over the pasture or a quiet Sunday drive to visit friends and family or even the feeling of community to belonging to a small rural town. Families that have traded in their city digs for a piece of the country look forward to growing their kids high as the corn fields in August and giving them a taste of heaven on earth.
Furthermore, life in the country is slower, so people there have time for each other. As a result, they tend to be friendlier and more open. If you need help, people always have time to help you.