The myth that building a "Healthy Homes" can cost a great deal more is not right.
Home may be where the heart is but it's also where you'll find dust mites, paint, asbestos, mould and mildew, off-gassing synthetic carpeting, plywood with heavy formaldehyde concentration, radon gas and mould spores. Indoor air pollutants that can cause problems ranging from sneezing and skin rashes to severe breathing problems, cancer, and even death.
Healthy Homes are part of the "green building" movement in this country – We don't want office buildings that make us sick, and we don't want a home that makes us uncomfortable or ill.
A few of the improvements in the house building industry include the fact that lead-based house paints have been banned since 1980, and asbestos (used for insulation and as fireproof wall barriers) since 1986.
Urea formaldehyde-based insulation can no longer be used in houses, and formaldehyde emissions from urea formaldehyde bonded hardwood plywood are far lower than it was 15 years ago.
More home buyers want electronic and non-electronic high-efficiency air cleaners. And where some builders used to give their new house customers a lovely houseplant as a thank you gift, many give a duct-cleaning gift certificate as a thank you instead, since so many people want their ducts cleaned before they move in.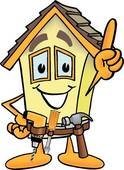 In addition to duct cleaning homeowners wanting healthier houses are opting for hardwood floors in the bedrooms, which can be easier to clean and have no out-gassing like synthetic carpeting, and one-piece fiberglass tub enclosures that eliminate mold and mildew.
Chemically sensitive individuals or others with allergies may opt for cabinets made from solid wood and galvanized steel, stainless steel kitchen countertops with welded and polished seams, central vacuum systems, outdoor exhaust, and copper water lines that are joined with lead-free solder.
The myth that building a "Healthy Homes" can cost a great deal more is not right. Some homes don't cost any more; others can add up to 25% more. But balance that with the money spent on the medical and insurance expenses for problems caused by an unhealthy home and the costs are well justified.
It has been said that we shape our buildings, and then our buildings shape us. When we consider that the average North American spends at least 90% of life indoors, the significance of this statement becomes apparent.
Seven Tips for Keeping a Healthy Home
Keep it Dry – Prevent water from entering your home through leaks in roofing systems, rainwater from entering the home due to poor drainage, and check your interior plumbing for any leaking.
Keep it Clean – Control the source of dust and contaminants, creating smooth and cleanable surfaces, reducing clutter, and using efficient wet-cleaning methods.
Keep it Safe – Store poisons out of the reach of children and properly label. Secure loose rugs and keep children's play areas free from hard or sharp surfaces. Install smoke and carbon monoxide detectors and keep fire extinguishers on hand.
Keep it Well-Ventilated – Ventilate bathrooms and kitchens and use whole house ventilation for supplying fresh air to reduce the concentration of contaminants in the home.
Keep it Pest-free – All pests look for food, water and shelter. Seal cracks and openings throughout the home; store food in pest-resistant containers. If needed, use sticky traps and baits in closed containers, along with least toxic pesticides such as boric acid powder.
Keep it Contaminant-free – Reduce lead-related hazards in pre-1978 homes by fixing deteriorated paint, and keeping floors and window areas clean using a wet-cleaning approach. Test your home for radon, a naturally occurring dangerous gas that enters homes through soil, crawlspaces, and foundation cracks. Install a radon removal system if levels above the EPA action level are detected.
Keep it Well-Maintained – Inspect, clean and repair your home routinely. Take care of minor repairs and problems before they become significant repairs and issues.